The Appomattox Tile Art story begins in 1984 at Radford University. Art History students, Cindy and Sean, view slides, the images of Roman African, and Byzantine mosaics stood out in particular. Little did they know that their interest in the ancient art form would one day culminate into a highly respected manufacturing studio, Appomattox Tile Art. Cindy and Sean Haynie would eventually marry in 1990 and honeymoon on the Greek island of Mykonos. Day-tripping to the adjacent island of Delos, they walked on ancient mosaics including Cleopatra's living room floor.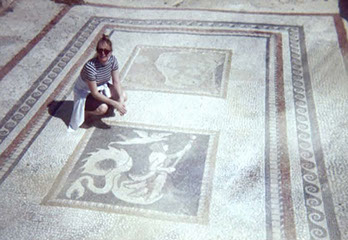 In 1994, Sean joined his father to help run the family restaurant, Sting Ray's, on the Eastern Shore of Virginia and Cindy found a fledgling mosaic studio where she was instrumental in the growth and success of the company during her tenure. December of 1998 brought a huge ice storm to central Virginia where in a cozy family meeting, Cindy and Sean discussed the possibility of starting their own mosaic manufacturing company. The endeavor would require child care from Cindy's mother Jean, cutting and welding assistance from brothers Donald and Mike, and a partnership with Cindy's sister Nikki to help with accounting and production. The three "employees" set up shop in a pre-Civil War warehouse in the Old Town district of Petersburg, Virginia and assembled the mosaics for the Coverings 1999 trade show booth. The new line designed by Cindy was an instant success as Appomattox Tile Art was able to sign on a contingency of showrooms to jump start the business. In addition, the trade show booth won a coveted "Must See" award for its appeal among 1,000 comparable booths.
Cindy Haynie in Delos, Greece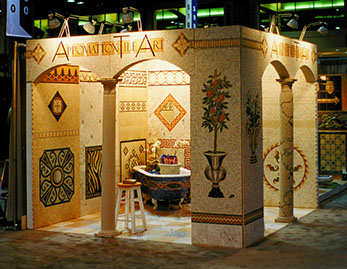 Our first booth at the Coverings trade show
Appomattox Tile Art grew rapidly within the first five years culminating in the acquisition of a 45,000 square foot Beaux-Arts building. Originally built in 1918 as a Ford Model-A assembly plant, the building's showroom incorporates ornamental plaster walls and ceilings as well as ¾" porcelain mosaic floors. A historic and aesthetically pleasing environment has become the ideal place to inspire timeless mosaics.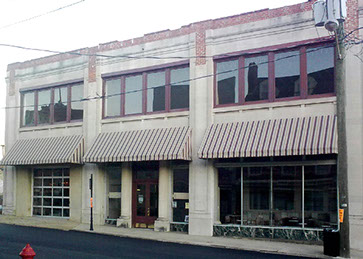 The move was essential to house a multi-blade saw from Italy affectionately named the "Italian Stallion", for its workhorse capabilities. In 2007 the purchase of a waterjet machine gave ATA the luxury of cutting almost any shape imaginable to incorporate with mosaic tesserae. The early production of circles for the widely popular Studio 54 design was paramount. Consumer demand for more waterjet designs have led to thousands of shapes displayed in our collection.
The Carter building in Petersburg, Virginia
Our simple mission: produce top-notch custom mosaics and the highest standards in customer service. By staying small and keeping a family atmosphere, our customers are better served and appreciate the ability to talk to a friendly, helpful representative when needed.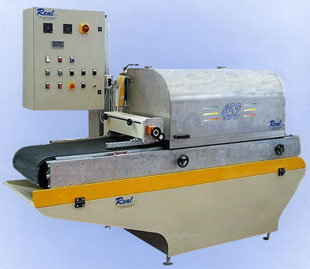 "Italian Stallion" Gang saw
© 2018 Appomattox Tile Art. All rights reserved
Made to order products handcrafted in the USA